Suggested Network Settings
The Steam Link hardware and streaming app both leverage Steam's In-Home Streaming service. See our In-Home Streaming FAQ for more details on this technology.
If you haven't already, we also recommend checking out the Troubleshooting Network Connectivity and How do I diagnose and report network problems? articles for more background information and suggestions regarding general network troubleshooting.
For specific information on how to accomplish these tasks, please see your modem/router's documentation.
Troubleshooting First Steps
Connect your computer to a wired network
One of the main causes of performance issues is interference. If your PC is on the wireless network and trying to send data to your router while your router is sending that data to your device or your device is talking back, they'll interfere and you'll have a choppy experience. We highly recommend making sure your computer is directly connected to the router with Ethernet.
Enable the Performance Overlay
The In-Home Streaming Performance Overlay can help you determine if you are encountering a network-related problem. You can also use this feature to show the impact of the troubleshooting you perform.
Go into the advanced streaming settings on your device and enable the performance graph. Then, while streaming, watch for large spikes in the cyan line. This indicates highly variable network time, which is the main indicator of streaming network issues. These will usually coincide with video stuttering or freezing.
A detailed guide of the Performance Overlay and what the displayed information means can be found in the In-Home Streaming discussion forums.
Remove other sources of interference
Other applications using the wireless network can interfere with game streaming. Make sure no one else is streaming movies or audio (using BitTorrent, Chromecast, etc.).
Can't Locate Your Computer?
Network Ports
In-Home Streaming uses the following ports:
Please ensure that Steam is allowed to listen to these ports in your host computer firewall software. We suggest contacting your network administrator or firewall software developer for more information.
See our Required Ports for Steam FAQ and our Using Steam with a Firewall FAQ for additional suggestions and more details on this process. Please note: If Steam or your game has updated recently, your firewall may be preventing network access even if it worked correctly before.
Client Isolation
In order to use Steam In-Home Streaming, please ensure that Access Point/Client Isolation is disabled in your router settings.
Please note: Steam In-Home Streaming is not supported on public networks, workplace or school/university networks, guest networks, networks with gateway portals or which require a log-in, or other networks with access point/client isolation enabled. These types of networks will prevent you from connecting in most cases. Please consult your network administrator for more details.
The Steam Link is enabled to work with WPS security; however, if you encounter any issues connecting to a WPS access point, please disable WPS and use an alternative method of connecting to troubleshoot the issue.
Experiencing Poor Streaming Quality?
Connecting via a Wireless Router
Steam In-Home Streaming is compatible with most home networks. A wired network will provide the best result, and we highly recommend using an Ethernet connection if your In-Home streaming client supports it. Wireless and power line connections can cause intermittent failures due to interference. You can test your devices using a direct wired connection to determine if this is a problem.
For best performance we recommend using a router that supports the 802.11AC protocol. NVIDIA has created a list of recommended routers that are also good choices for Steam In-Home Streaming. If the previous option is not available to you, a router that supports the 802.11N via a 5GHz signal will be the next best choice.
To optimize your network:
Move your equipment for a better signal
The strength of the wireless signal is affected by interference from other wireless networks, distance, and walls, floors, metal, and electronic equipment between your wireless router and the Steam Link. Sometimes moving your router to a better location or moving your Steam Link out in front of your TV can help dramatically. Also make sure that your PC and router are in open, well-ventilated areas, as their performance will be reduced when they are overheating.
Change the Link's streaming quality
Setting the quality to "Balanced" or "Fast" will reduce the bandwidth used for streaming, reducing the visual quality and lowering the load on your network.
Device Priority/Quality of Service (QOS)
Adjusting the designated bandwidth or device priority for your streaming client and host can improve the quality of your streaming experience.
Most routers include this feature as Quality of Service (QoS) settings or Bandwidth Priority settings that can be accessed through the router administration panel, or in some cases an associated application provided by your equipment manufacturer. Make sure that your streaming client and host are prioritized in these settings.
Update your router firmware
Some wireless routers have bugs in handling the amount of UDP traffic sent in In-Home Streaming. Please make sure your router has the latest firmware updates to resolve any known issues.
Tune your streaming bandwidth
You can directly limit the resolution and amount of bandwidth used in the advanced streaming settings. If you want to tune things exactly right for your setup, you can start at 3 Mbit/s and slowly increase the bandwidth until you start getting hitches and then drop it back down. You can do this live while your game is running by bringing up the Steam overlay with the guide button or Shift+Tab and going to the streaming settings panel.
Источник
Steam Link Hardware
The Steam Link allows you to stream games from the Steam Library on your PC to any TV in your home. The technology takes advantage of the horsepower you already have in your home, streaming from your current gaming computer by mirroring its experience to your TV.
Video and audio data is sent from your computer, while your controller input is sent back in real time. Virtually every game that your computer runs can be streamed with the Steam Link.
Steam Link technology is also available for Android Devices, Samsung TVs, and Raspberry Pi
Required/Recommended Equipment
Supported Input/Controllers
Please note: other input devices may work even if they aren't officially supported.
Getting Started
If you have questions about the app or need help using it, just click the appropriate tab.
Frequently Asked Questions
Why is my Steam Link unable to find my host computer?
There are a number of factors that can cause this issue, please try the following steps:
Why can't I connect to my host computer?
One of the most common causes for this issue is interfering software, such as a firewall or anti-virus software. Please review the Programs Which May Interfere with Steam article.
Alternatively, from the Steam Link main menu, highlight your host computer, then press the «Y» button to start the network test. This test will start Big Picture on your host computer and simulate 10 seconds of network traffic with your current network settings.
The test will also inform you if there are any issues with ports. If you see any errors, make sure your ports are appropriately configured for Steam.
The game is choppy and unresponsive. How can I improve the experience?
We recommend using wired connection for best experience. For wireless connection, the majority of people have found that switching to a 5GHz network significantly improves the gaming experience.
Alternatively, you can switch to the 'Fast' streaming quality option from the Streaming settings in the Steam Link.
How can I pair multiple controllers to my Steam Link?
You can pair a Steam Controller to your wireless receiver or directly to the Steam Link. To pair a Steam Controller directly to the Link, remove all USB peripherals from the Steam Link, boot to the blue pairing screen, and power-on the Steam Controller by holding «X» with the Steam/Home button. You can repeat these steps for pairing additional controllers.
To toggle between pairing modes (the wireless receiver or Steam Link), press the Steam button while holding «A».
How can I play non-Steam games on the Steam Link?
The Steam Link can stream any computer game once you add it to your Steam library. Retail games and non-Steam games can be added to your Steam library from the Steam client by clicking "+ ADD A GAME". You should launch the game from Steam, rather than using a shortcut on your desktop.
Troubleshooting
Experiencing Performance Issues?
If you are experiencing performance issues please ensure that your settings are optimized for Streaming.
Contacting Steam Support
If you have other issues or questions, contact Steam Support and attach the remote_connections.txt and streaming_log.txt files to your ticket.
The default location for this file on your PC is C:\Program Files (x86)\Steam\logs
Источник
Уже доступно на iOS и Apple TV
Перенесите свои игры Steam на телефон, планшет или телевизор.
Узнать больше об устройстве Steam Link можно здесь.
Доступно бесплатно
Приложение Steam Link бесплатно и доступно для трансляции игр на телефонах, планшетах и телевизорах. Подписка или покупки внутри приложения не требуются.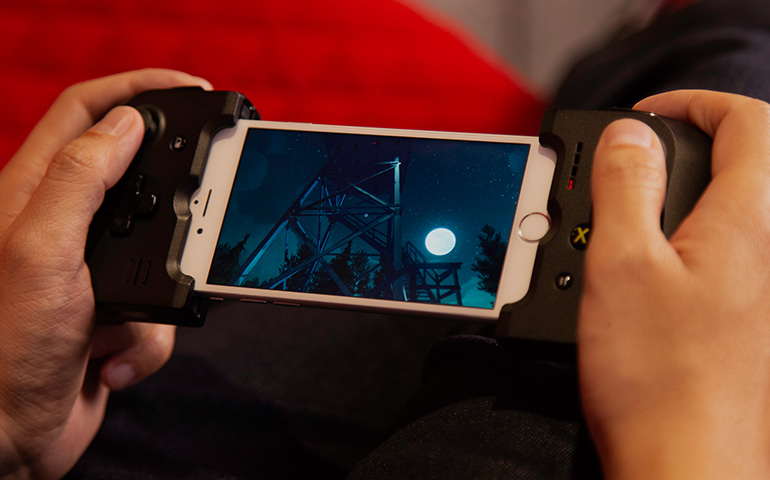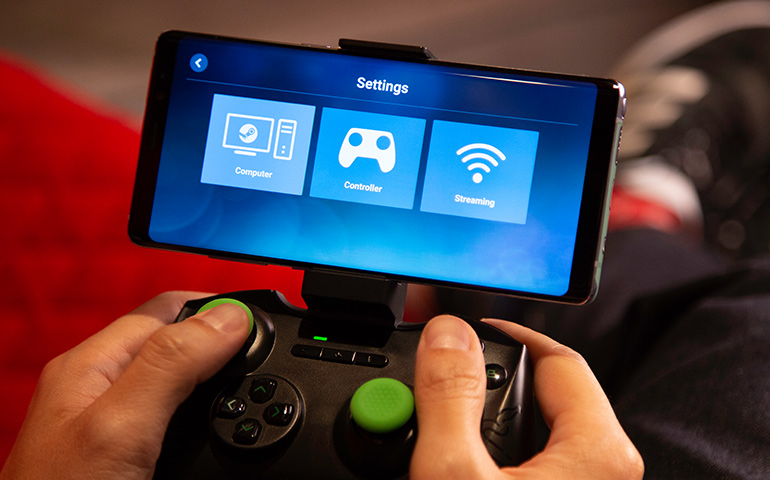 Поддерживаемые контроллеры
По Bluetooth с приложением Steam Link работает как Steam Controller, так и другие Bluetooth-контроллеры, мыши и клавиатуры.
Как это работает?
Загрузите приложение и подключитесь к основному компьютеру, чтобы использовать Steam где угодно.
1. Установите приложение
Загрузите бесплатное приложение на телефон, планшет или телевизор из Google Play или App Store.
2. Привяжите контроллер
Приложение Steam Link работает со многими популярными контроллерами, включая Steam Controller.
3. Подключитесь к компьютеру
Подключитесь к компьютеру с запущенным Steam. Для наилучшей производительности необходимо соединение Wi-Fi с частотой более 5 ГГц или проводное подключение.
Приложение Steam Link
Steam Controller
Если у вас есть Steam Controller, потребуется обновить прошивку.
Если у вас есть Steam Controller, вы можете подготовиться к выходу приложения, обновив прошивку до новой версии с поддержкой Bluetooth.
Эта прошивка позволяет использовать Steam Controller либо в режиме BLE (беспроводная технология Bluetooth с низким энергопотреблением), либо в исходном беспроводном режиме. Режим BLE необходим для работы Steam Controller с приложением Steam Link.
Какую технологию использует приложение Steam Link для трансляций?
Используется технология Steam Remote Play, также используемая для устройства Steam Link. В реальном времени производится кодирование видео в формат H.264, и оно отправляется по специальному протоколу с низкой задержкой, а затем отображается в клиенте.
Какие устройства поддерживаются?
Для устройств на Android мы выпустили бета-версию, чтобы протестировать её обстоятельно. В начале бета-тестирования поддерживаются устройства с Android 5.0 и новее. Мы также поддерживаем устройства Apple: iPhone или iPad с iOS 11.0 и выше, а также Apple TV с tvOS 11.0 и выше.
Можно ли изменить настройки трансляции, чтобы повысить производительность?
Да. В приложении имеются расширенные настройки, позволяющие выбирать разрешение и битрейт трансляции. Для сетей с частотой 5 ГГц мы стремимся достичь 1080p и 60 кадров в секунду, что обеспечит хорошее качество в большинстве случаев. Если у вас мощное устройство, проводная сеть и очень хороший компьютер, вполне возможно использовать разрешение 4K при 60 кадрах в секунду.
А что, если соотношение сторон или размер экрана различаются?
Если соотношение сторон экрана и видео не совпадают, слева и справа добавляются чёрные полосы, а само видео масштабируется. На мобильных устройствах вы можете увеличить изображение, разведя два пальца в разные стороны, и подвинуть увеличенное изображение в сторону, проведя двумя пальцами в нужном направлении.
Сколько стоит приложение?
Приложение Steam Link доступно бесплатно. Подписка или покупки внутри приложения не требуются.
А что делать с моим устройством Steam Link?
Оборудование Steam Link поддерживает самые разнообразные устройства ввода и спроектировано специально для трансляций на телевизоры с низкой задержкой. Мы продолжаем поддерживать этот продукт. Мы уверены, что он остаётся неотъемлемой частью экосистемы Steam Link.
Источник